Last seen under my offseason arse in
gwadzilla's place
, here's my Moots.
It's the
Psychlo-X
with
S&S couplers
and braze-ons for fenders and racks, and I sold my Volkswagen to pay for it. I wanted a decent bike for cross racing, but without a car, getting to cross races was pretty tough. So I have never raced this bike. Plus, look back at that gwadzilla pic, I'm no Michael Rasmussen.
So, this bike spends most of it's time saddled with the equipment and grime of commuting.
A few people have expressed surprise that I commute on an expensive titanium bike. It's a bike, and a stout one at that, not a Faberge egg. Why commute on a beater and allow this bike to just sit and look pretty? Here's the SRAM crank...
...and you can see the downtube coupler in the shot. I wanted the couplers for my then-frequent trips to Nova Scotia, where my parents lived until several weeks after I purchased this bike. Anyway, the SRAM crank plays nicely with Campy mongrel Centaur/Record shifters....
....and the Shimano 9-speed drivetrain. Here's a pic of how to route the derailleur cable to make the combo work, and
the link
to where I learned this.
Here's the very busy steerer tube. That black collar thing is the Easton bear-trap headset tension doohickey, intended to replace the star-nut and topcap assembly. Does it work? No.
The obligatory Moots money-shot of the welds.
More evidence that I (glass half full) ride this bike hard, or (glass half empty) abuse this bike with my unclean ways.
Due to
JetBlue's butcher job
on my wheels, I'm bouncing around DC with a Campy track wheel on the front. Very pretty.
But it desperately needs a rebuild, which Paul the mechanic nags me about every time I see him. And I'm terrified that
this
will happen on 18th St.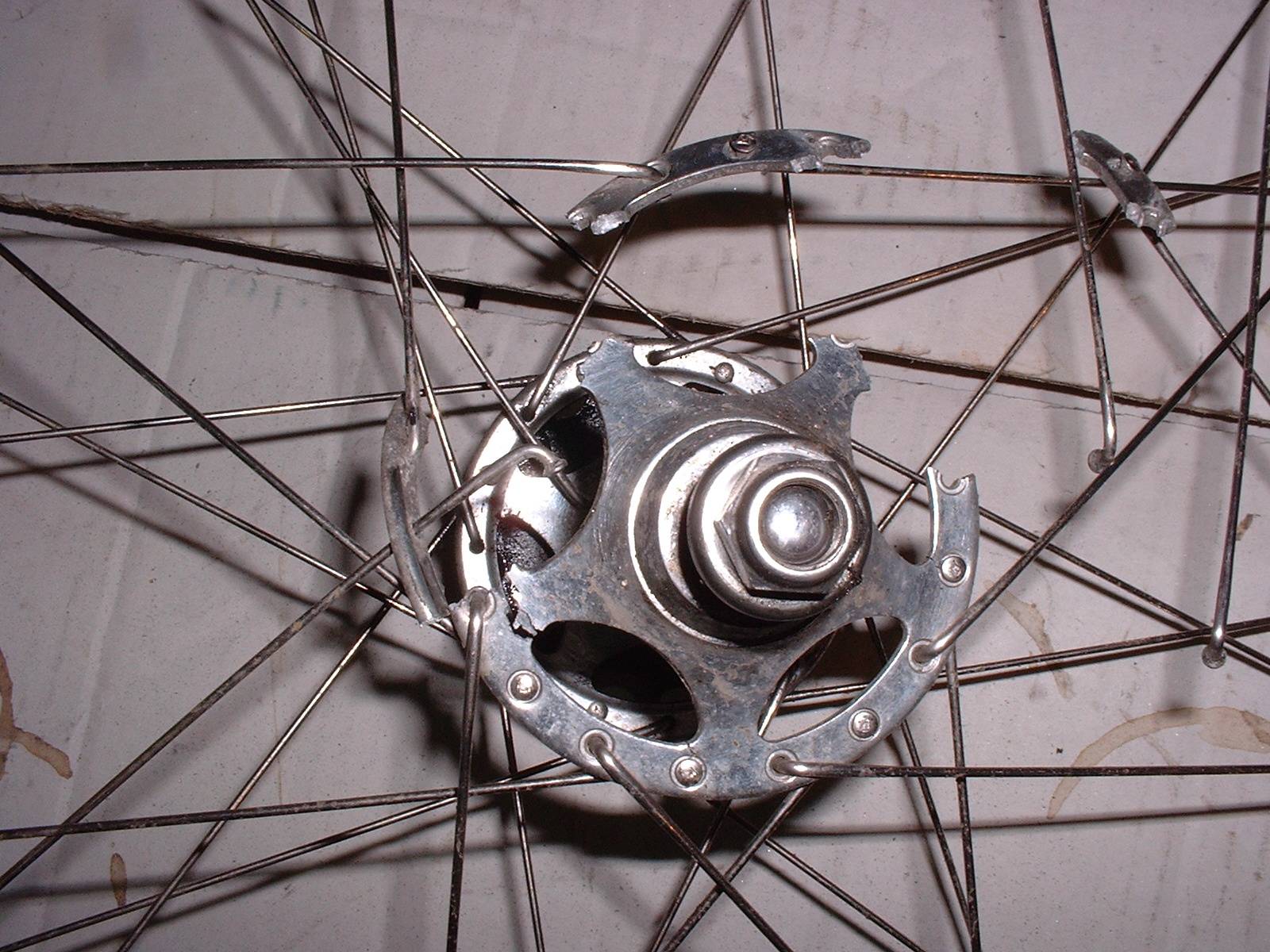 But I'm a daredevil. Elliott Spitzer calls me reckless. Mike Tyson won't make eye contact with me. Need proof?
I rode for 15 years on saddles without a "no slip system." I slipped. Oh yeah, I slipped. But I'm getting older now, so it's time for "no slip." But that slipping kid inside me will never die.