Working ("working") at home yesterday, half-listening to Dr. Phil cut to commercial, and my feedhole got stuffed with more cycling in media. This one is just kind of goofy, though. IHOP's Tour de French Toast. At least it's not the Tour "day" French Toast.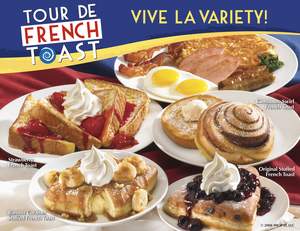 There's a TV ad that shows a bunch of roadies zooming through an IHOP, snatching up some delicious IHOP
nourriture
, and zooming out.
Malheureusement
, the ad hasn't popped up on youtube or the IHOP site. But here's the marketwire
press release
, which includes the wholesomely humorous title, "Vive L'IHOP!"
Mais oui.